Сохранение...
Выбрать товар
По производителю: выберите производителя API Hunkydory Crafts Hunkydory Crafts Ice Resin Joy! Crafts Photo Play 3L 3M 7gypsies Ad tech Albero Aleenes Allary Amanda Blu American Crafts Art Art Institute Glitter Artemio Artquest ATB Authentique Paper Autumn Leaves BasicGrey Bazzil Bazzil Basics Bella Blvd Blue Hills Studio Blumenthal Lansing Bo Bunny Bucilla Buromax Buttons Galore Canson Canvas Corp Carta Bella Chatterbox Cheap Art Chikaniddy Crafts Clear Scraps Clear Snap Color Wheel Colorbok CoolHoo Coredinations Cosmo Cricket Cottage Cutz Craf-T Products Craft Consortium Crafter's Companion Crafts-Too Crafty Ann Crafty Secrets Crate Paper Creartec Creating Keepsakes Creative Charms Creative Imaginations Creative Impressions Cropper Hopper Cropper Hopper Cuttlebug Dab'n Stic Dafa Daisy D's Dalprint Darcies Darice DCWV Deco Art Decola Delta Die-Namites Ditto Docrafts Doodlebug Dovecraft DREAMWEAVER DIE Dress It Up Dymo Echo Park EK Success Elizabeth Craft Designs Ella And Viv Elmer's Expo Eyelet Outlet Fabriano Fabric Palette Fabscraps Falk Fancy Pants Fantasia Farm House First Edition Fiskars Fizzy Moon Floracraft Flower Soft Folia Freetany Flowers GCD Glitz Design Goodbye Static Grace Taylor Grant Studios Graphic 45 Green Sneakers Hallmark Cards Hambly Hampton Art Heartfelt Creations Heidi Swapp Helz Cuppleditch Hemptique Hero Arts Heyda Hobby and You HOTP Hug Snug Imaginisce Imaginisce JeJe Jenni Bowlin Studio Jinger Adams JustRite K and Company Kaisercraft Kanban Crafts Karen Foster Katrin Craft Knorr Prandell Kunin La-La Land Die LaBlanche Lasting Impressions Lawn Fawn Lea'bilities Lesia Zgharda Lily Bee Design Little Darlings Little Yellow Bicycle Magenta Magnolia DooHickeys Making Memories Marabu Margo Marianne Design Marion Smith Martha Stewart Marvy Uchida May Arts Maya Road MBI McGill Me and My Big Ideas Melissa Frances Memory Box Momenta Momenta Multicruft Imports My Favorite Things My Little Shoebox My Mind's Eye NCL Nellie's Choice October Afternoon Olfa Panduro Paper Company Paper House Papermania Pebbles Penny Black Perfect Paper Crafting Petaloo PhotoPlay Piggy Tales Pink Paislee Pioneer Plaid Prima Pro-Art Proedge Provocraft Punch Bunch Purple Cows Queen and Co Ranger Inc. Recollections Reminisce Renesans Ribbon Ring Robin's Nest ROSA Royal Brush Ruby Rock It S.E.I. SandyLion Santi Santoro Scor-Pal ScrapBerry's Scrapbook Adhesives ScrapBox ScrapEgo ScrapMir ScrapStudio Simple Stories Simply Creative Sizzix Slice Something Tattered Sonia.J Spellbinders Stampabilities Stampendous Stampers Anonymous Sticker King Studio Calico Studio G Suatelier Sulyn Tattered Angels Technique Tuesday Teresa Collins Thailand The Crafters Workshop The Twinery Tidy Crafts Tilda Tim Holtz Tombow Tonic Studios Tsukineko UHU Venzelyk Want2scrap We R Memory Keepers Webster's Pages Westrim Wild Rose Studio X-Acto Xcut ZiBi Zutter Англия АртУзор Бумага Марака Германия Италия Китай Корея Питерский скрапклуб Россия СкрапКлумба Скрапология Таиланд ТМ Цветочная Фея Украина Фабрика Декора Штампувальня Штампы с любовью По теме: выберите тему Архитектура Весна Винтаж и ретро Геометрия Девочка День рождения Детство Дом, семья Дружба Женщина Животные Журналинг Зима Кулинария Лето Любовь и свадьба Мальчик Море Мужчина Музыка Новый Год Осень Офис и школа Праздники Природа Путешествия Растительный мир Романтика Текст и фразы Узоры Универсальные Хеллоуин Цветы По цвету: выберите цвет Белый Черный Красный Зеленый Серый Оранжевый Синий Желтый Коричневый Бежевый Кремовый Золото Серебро Голубой Розовый Персиковый Сиреневый Бордовый Прозрачный Фиолетовый Бирюзовый Коралловый Фуксия Салатовый Молочный Слоновая кость Оливковый По коллекции: выберите коллекцию artsy.licious Birthday Girl Botanico Cherry Hill Country Estate Crowning Affair Value Pack Ducks in a row Eclectique Fabulous Farm Fresh Fathers love Floral Muse Happy day Kit Ladies and Gents Leyton Value Pack Man of the House Mermaid Tails Night Light Pretty Posy Provincial Seashore Stripe Time Traveller Together Victoria - 7gypsies Медвежонок Винни и его друзья Ночь перед Рождеством #Me Die 12 Days of Christmas 13th Hour 2 Cool 4 School 302 Collection 5th and Frolic 5th Avenue 75 Cents A Christmas Story A Ladies Diary A Mother's Love A Sweet Life A Type of Art ABC Primer About A Little Boy About A Little Girl Abrianna Abroad Ad Lib Addie Adelaide Adirondack After Five Ahoy There Air Mail Airy Fairy All A Flutter All Aboard All About a Boy All About Boys All About Girls All About Me All Abroad All Chalked Up All Inclusive All is Bright All Occasions All Seasons All That Glitters Alla Prima Allstar Almanac Alphabet Junction Altitude Always & Forever Always and Forever Amber Moon Ambrosia Amy Tangerine Ancestry Anchored Ancient Page Animal Antics Animal Crackers Animal Of The Year Anna Marie Anna-Maria Annabelle's Christmas Annabelle's Meadow Annalee Anniversary Anthologie Antique Chic Antique Florals Antique Rose Apples & Cherries Apples and Cherries Arcadia Archival Ink Archivist Around the World Art Journal Art Mechanique Artisan Artist's Aids artsy.licious Aryia's Garden Aspen Frost At Christmas At Last At The Beach Athena Atlantic Attic Treasures Au Jardin Audrey Autumn Song Autumn Woods Avignon Baby Baby 2 Bride Baby Animals Baby Bear Baby Boy Baby Boy and Girl Baby Bump Baby Fun Baby Girl Baby Girl Animals Baby Jody Baby Memories Baby Mine/Boy Baby Mine/Girl Baby of Mine Baby Shabby Baby Shebby Baby Steps Baby's First Birthday Back to Basics Back to Basics - Bright Spark Back to Basics Christmas Back to Basics Christmas Modern Back to Basics Christmas Traditional Back to Basics Christmas Vintage Back to Basics I Back to Basics II Back to Basics III Back to Basics IV Back To Basics K Back to Basics Monochrome Back to Basics Traditional Back to Basics – Pretty In Pink Back to Basics – True Blue Back to Basics –True Blue Background Backstage Bailey Barber Shoppe Barcelona Barefoot & Bliss Base Coat Basics Basics Ash Basics Baby Basics Begonia Basics Honeycomb Basics Peony Basics Rouge Basik Baby Bayberry Cottage Bazaar Be Mine Be Yourself Beautiful Dreamer Beautiful Life Beautiful Moments Bedtime story Bel Canto Believe Bella Bella Armoire Bella Bella Bella! J'Adore Bella! Krafty Bella: Vintage Chic Belle and Boo Belle Artes Bellisima BELLISSIMA Beloved Wedding Best of Brenda Walton Best of Paisley Best of Paper Best of Susan Winget Betrothed Betrothet Betsy's Bexley Beyoutiful Bird Song Birdcage Vintage Birthday Birthday Boy Birthday Girl Birthday Party Birthdays For Her Birthdays For Him Black Out Blae and Ivy Blank Canvas Blast Off Blast Off! Blitzen Bloom & Grow Value Pack Bloom Collection Blooming Lovely Bloomscape Blossom Blossoms and Butterflies Blu Belle Blubelle Blue China Blue Citrus Blueprint Boarding Pass Bohemian Bohemian Bamboo Bohemian Bazaar Boho Chic Boho Dreams Bold and Bright Bon Appetit Bon Voyage Bonjour Botanica Botanicabella Botanical Botanical Christmas Botanical Etchings Botanical Notes Botanical Odyssey Botanical Tea Botanico Botanique Botany autumn Botany summer Bountiful Boutique Boxer Boy Boy Oh Boy Boy Petticoats & Pinstripes Boy's Life Boyhood Boys Breakfast Club Breeze Bridal Bliss Bright Bright Basics Bright Days Bright Side Bright Spark Brooke Brown Bubblegum Hills Buccaneer Bay Bundle of Joy Bundle Of Joy Boy Bundle of Joy Boy 2 Bundle of Joy Boy and Girl Bundle Of Joy Girl Bundle of Joy Girl 2 Bundle of Joy New Addition Boy Bundle of Joy New Addition Girl Bunny birthday party Burlesque Butterfly Butterfly Dreams Butterfly Garden Butterfly Kisses By the Sea C Днем Рождения C'est la Vie Cafe Parisian Calais Calcutta Calendar Girl - January Through December Cambridge Courte Cameo Roses Camping Flag Candy Floss Candy Shop Capella Capri Capsule Captured Carnival Carolina Carpe Diem Cartographer Cashmere Dame Cat Stuff Celebrate Celebrate Spring Celebrations Chalkboard Chanteuse Chapter One Charlotte's Dream Charlottes Dream Charm Charmed garden Charming Chase Rainbows Chateau Lavender Check In Check-In Chelsea Cherish Cherry Hill Child's Play Children at Play Children's Hour Chocolate Christmas Christmas and Winter Christmas Basics Christmas Carols Christmas Countdown Christmas Creative Ribbon Christmas Day Christmas Emporium Christmas Eve Christmas Fairytales Christmas in the Country Christmas Multiple Christmas Night Christmas Play Christmas Story Christmas Traditional Christmas Village Christmas Wishes Chritmas Chuckle Cigar Box Secrets Cinnamon Luster Citron Citrus City Park Cityscapes Class Act Classic Classic Elegance Classique Elegant Clippings Cloisonne Cock-A-Doodle-Doo Cock-A-Doodle-Doo! Collage Color Wash Colored Dots Colorful Lifestack Come away with me Communique Confetti Confetty Playground Conservatory Cook Cool Baby Boy Cool school Coral Couture Cordero Corine Correspondence Cosmic Love & Lights Cottage Garden Cotton Tail Countdown to Christmas Country Boutique Country Cookin Country Drive Country Elegance Country Escape Country Estate Country Garden Country Kitchen Country Life Country Toppers Countryside Couture Couture Du Jour Cozy Forest Craftsman Crazy Love Crowded Attic Crush Cuddle Boy Cuddle Girl Cupcake Boutique Curio Curiosity Curiosity Corner Curtain Call Cut and Paste Adorbs Cut and Paste Charm Cute Cuts Dahpne Daily Chevies Daily Stories Dance in Sunshine Dancette Day at the Zoo Daydream Dear Jane Dear Lizzy Dear Lizzy Christmas Dear Santa Dearest Debutante December Documented Deck the Hall Deck the Halls Deco Mache Decorative Frames Delaney Delicious Recipes Delight Delightful DELISH Denim Desert Blooms Destinations Devonshire Devoted Dew Drops Diamond Range Dino baby Dino Friends Disctrict Disney Display Distress Distressed Textures
журнал всё о рукоделии ноябрь
Divine Document Documented Doll Baby Domestic Goddess Dot Dots and Stripes Dots and Stripes Christmas Double Dot Dragonfly Dreamcatcher Ducks in a Row Dylusions E-Line Earthtones Eau De Nil EAU DE NIL Collection Eclectic Eclectique Eklectique Elegance Elegance Wedding Elementary Elf Magic Embossing Pearls Emerald Garden Eminence En Francais Enchanted Forest Enchanted Garden Encore Engaged At Last English Rose Engraver Enjoy freedom Ephemera Epiphany Eskimo Kisses Especially for her Essentials Dots Primary Essentials Ombre Estate Sale et cetera Euphoria European holidays Everlasting Love Every Day Everyday Everyday Eclectic Everyday Essentials Everyday Moments Everyday Poetry Everyday Tango Everyday Yellows Everything Zen Fa-La-La Fab-U-Lous Fabulous Fact and Fiction Faded Florals Fairy Belle Fairy Belle Collection Fairy Flora Fairy Forest Fairy Forest W/Fireflies & Unicorn Fairy Rhymes Fairy Tales FaLaLa Fall Fall Fever Falling Leaves Family Family Bound Family Dynamics Family Stories Family Ties Family Traditions Family Tree Far and Away Far East Farm Fresh Farm Girl Farmer's wife Farmhouse Fashionista Father Christmas Fathers love Feels Like Home Felicity Fern and Forest Boy Fern and Forest Girl Festive Festive Fun Fiesta Forever Fiesta! Figgy Pudding Finally Fall Find Your Wings and Fly Finder's Keepers Fine & Sunny Fine and Sunny Firefly First memories First Noel Flags Flights of Fancy Flirty Flora Flora and Fauna Flora Delight Flora Doodles Floral Floral Embellishments Floral Fair Floral Fantasy Floral Flourishes Floral Foliage Floral Fusion Floral Muse Floral Pavilion Floret Flourish Flower Girl Flower mood Flowergarden Flowers time Fly Free Folk Song Follow your heart For Men For the Record For the Record Documented For the Record Tailored Forever Forever & Always Forever Friends Forever Yours Forget Me Not Forget-Me-Not Formal Affair Four Seasons France Free As A Bird Free Spirit French Country French Couture French Heritage French Industrial French Kiss French Provence French Riviera French_Country Fresh Floral Freshly Picked Frigid Fun Front Porch Frosted Fun in the Sun Funfair Furry Friends Fusion Gabrielle Gallery Garage Days Garden Arabesque Garden Cafe Garden Fable Garden Gala Garden Journal Garden Party Gardenparty Gateway Gearhead Generation Getaway Gilded Lily Gingerbread Girl Land Girl Petticoats & Pinstripes Girlhood Girls Girly Polka Dots Glad Tidings Glided Winter Global Gnome Sweet Gnome Gone Fishing Gone Wild Good Life Good Ol' Sport Good Wood Gorgeous Ginghams Gorjuss Grace Grace Bundle Graceful Grand Plans Greenhouse Grid it Gypsy Jewels Gypsy Market Gypsy Sisters H2O Halftone Handmade Handmade Memories Happy Birthday Happy Camper Happy Day Happy Days Happy Travels Happy Trials Harmony Haute Pink Head Over Heels Heartfelt Heartwarming Vintage Hearwarming Vintage Heaven Sent Hedgerow Friends Heirloom Hello Hello Baby Boy Hello Baby Girl Hello Beautiful Hello Beautiful! Hello Christmas Hello Friend Hello Pastel Hello Spring Hello Summer Hello Sunshine Hello Winter Helz Cuppleditch Here and Now Heritage Hidden Treasures Hideaway High Tea Hippity Hoppity Hocus Pocus Holiday Holidays Past Holly Bright Holly Jolly HollyDays Hollywood, Wonderfall Home Decor Home For Christmas Home For the Holidays Homemade Homemade With Love Hometown Honey Chai Hope Hope Chest Hopscotch hotp_home_grown_ House House Mouse Hudson Valley Hummingbird Hunt and Gather I Believe I Love Sunshine I love travels iCandy Idea-ology Imaginary Friends Imagination Imagine A Forest Immortal Love Impress In Attick In Bloom In The Kitchen Indian Summer Indie Chic Inkssentials Innocence Irresistible Isabella Isabelle It's A Boy It's a Celebration It's A Girl It's a Boy It's a Girl J'Adore Jack & Jill Boy Jack & Jill Girl Jack and Jill Jazmyne Je t'Adore Jewels Journey Jovial Joy and Pride Joyous Julianne Julie Nutting Belle Vie Juliet Juliette June Bug Jungle Friends Juniper Berry Just a Note Just Because Just Believe Just Write Key Lime Key To My Heart Kidlet Kidosaurus Kids Kinda Krafty Kinetic Power Kingston Kioshi Kiss and Make Up Kiss Me Kissing Booth Kit Kitschy Kitchen Konnichiwa Kraft Reflections Kraft Resist La Creme Lace Lace & Linen Ladie's Diary Ladies & Gents Ladies and Gents Lady Bird Lady Rose Lauderdale Laugh Lavendar Haze Lavender Le Chateau Le Cirque Le Tres Chic Ledger Lemon Flower Lemonade Let's Celebrate Let's Travel Lettle Flowers Leyton Value Pack Life In Color Life is Good Life Stories Life's Portrait Lifes Tapestry Lifetime Lil Primrose Lil' Critter Lilac Lilac Avenue Lille Lillibet Linen Closet Liquid Pearls Little Bear Little Black Dress Little Bo Peep Little Boy Little Boy Blue Little Bunny Little Darlings Little Easter Little elephant Little Girl Little Love Clippings Little Man Little Meow Little Miss Little Mister Little One Little Tool Little Toot London Long Road Batik Looking Glass Lost & Found Lost and Found Lost and Found Record It Lost Meadows Love Love & Marriage Love and Marriage Love Clippings Love Letter Love Letters Love Notes Love Potion Love Story Love Struck Love You Lovelies Lovely Lovely Dovey Lovey Dovey Lucido Lucille Lucky In Love Lucy Cromwell Lul and Roy Lullaby Lullaby Lane Lush Lush 2 Lush Spot Varnish Luxury Lyllaby Lane Lyric Ma Cherie Madam Bourtique Madam Boutique Madame Payraud Made With Love Madeline Madison Magic Happens Magical Wishes Magnolia Magnolia Grove Magnolia Sky Magnolia-sky Mama-Razzi Man About Town Man Made Man of the House Map Margo Marigold Marigolds Mariposa Mariposa Solid Marjolaine Max Max & Whiskers Max and Whiskers Me to You Me To You Christmas Meadow Meadow Lark Melody Melody of Life Memories Memories Captured Men's project Menagerie Mercantile Merry and Bright Merry Bright Merry Days of Christmas Merry Magic Merry Medley Merryweather Micro Mini Midnight Midnight Berry Midnight Blush Collection Midnight Chic Midterm Milano Milton Milton Christmas Miniatures Mirabella Miss Caroline Miss Empire Miss Match Miss Nelly Mistletoe and Co Mistletoe Magic Misty Mix & Match Mixed Colours Mixed Media Mixed Up Mocha Modern Bouquet Modern Meadow Modern Millinery Modern Romance Molly Mon Amour Moonlit Passion More or Less Value Pack Moroccan Spice Mother Mother Goose Mother Nature Mothers Treasure Mother's Day Mr. and Mrs. Mr. Smith's Workshop Mulberry Kisses Mulberry Street Mumbai Musicale Musicality My Baby My Colors Classic My Favourite Things My Guy My Life My little baby boy My little baby girl My Romance My Sunshine My Super Hero My Year, My Story Mykonos Nan's Favourites Nana's Kids Nana's Kitchen Napoli Natural Natural Necessities Naturals Nature Nature Garden Nature Garden Collection Nature Sketchbook Nature's Gallery Nature's Storybook Nature's Watercolors Nautical Needle & Thread Needle and Thread Neon and Kraft Neroli Neutral Neutrals New Bloom New Leaf New You Newspaper Eiffel Tower Night Light Noel Noir et Chic Nook and Pantry Nordic Christmas Nordic Holiday Nordic Spirits Norland North Country North Pole Nostalgic Nostalgic Essentials Note to Self Noteworthy Nottinghill Nursery Nutcracker Nutmeg Off The Wall Oh Baby Boy Oh Boy! Oh So Lovely Old Mac Old School Old World Old World Travel Olde Curiosity Shoppe Oliver Olivia On The Move On The Sunny Side On This Day Once Upon a Springtime Once Upon a Time Once Upon A Time Prince Once Upon A Time Princess Ooh La La Organic Oriental Blossom Origins Our Wedding Story Out & About Out of Print Outback Outdoors Overlay Overlays Oxford Oyster Blush Collection Pacific Pack Your Bags Painted Blooms Painted Flowers Painted Petals Palm Beach Pankita Paper and Glue Paper Cottage Paper Doll Paper Flowers Paper Heart Papercraft Paperie Paradase City Paradise Beach Paradise Crush Paradiso Paris Paris Girl Parisian Anthology Party Animals Party Boy Party Girl Passport Past Times Pastel Pastels Pastiche Peachy Keen Peek-A-Boo Boy Peek-A-Boo Girl Peekaboo Girl Penelope Penny Emporium Pennyroyale Perfect Day Perfect Pearls Perfect Pearls Mists Perfect Princess Perfect Summer Perfectly Perfomance Periwinkle Petals and Lace Photo Real Picadilly Pick n Mix Pickled Pear Picnic Pincushion Pink Gelato Pink Peony Pink Plum Pitter Patter Pixie Glen Place in Time Plastino Play Date Playground Playtime Playtimes Past Plumeria Poppy Porcelain Porcelain Rose Porselain Rose Portobello Portobello Road Portrait Portrait Of A Lady Portraiture Postale Postcards from Paris Postcards from Paris II Powder Mountain Precious Precious Memories Precious Moments Premium Preppy_Princess Pretoria Pretty in Pink Pretty Mini Pretty Party Pretty Posy Primaries Primary Primrose Princes and Princesses Princess Princess Fairytale Princess_fairytail Printery Project Life Pulse Punch Pyrus Quilting Bee Rain Mist Random Reallife Red Theme Red/ Black Reef Reflections Reflections Christmas Reflections Fall Remember Me Remembrance Reminisce Renaissance Faire Renew Resin Restoration Retro Grunge Riverbank Revels Road Trip Robots Unplugged Rock Pool Rock-A-Bye Baby Boy Rock-A-Bye Baby Girl Romance Novel Romantic time Romantic Travel Romantique Rommance Rondelle Rosarian Rose Cafe Rose Garden Rose Quartz Roses in Harmony Rossi Belle Rosy Rough and Tumble Row Your Boat Royal Garden Royal Menagerie Rustic Rustic Harmony Rustic Winter RusticWedding Sail Away Sail Away K Salvage District Sand & Surf Sand and Surf Santa'a List Santa's List Santa's Workshop Santoro Savannah Save The Date Say it in Crystals School Band School Memories Schoolhouse Scoot Scrap Yard Sea Breeze Sea-Breeze Seashore Seaside Seaside Retreat Season's Greetings Seasonal Seasons Seasons Greetings Seaworthy Secret Admirer Secret Bird Society Secret Garden See Me Sew Sensual Love Sensual-love Serenade Serendipity Serenity Sew Easy Sew Lovely Sewingbird Shabby Chic Shabby Dreams Shabby memory Shabby Winter Shabbylicious She Said Shimmer Spritz Shipwreck Club Show & Tell Sienne Reverie Signature Maggie Holms Signs Of Spring Silent Night Silver and Gold Silver Bells Simple Simple Flowers Simple Surface Simply Floral Simply Susan Sisters Smile Baby Smile of Spring Smile of winter Smitten Snapshots Snow Day So Chic So Happy Together So Noted Soak Up The Sun Socialite Soft Nostalgia Soft Shade Soft Shades Soho Garden Soiree Soleil Solid Solstice Somebunny Loves You Something Blue Somewhere In Time Songbird Sophie Sophisticates Southern Charm Space Wars Sparkling Spring Sparkly Sweet Special Delivery Special Moments Splash Splendid Sunshine Spring Spring Bloom Spring Blossom Spring Drop Spring Feast Spring Fling Spring Market Springtime St Nicholas St. Nicholas St. Tropez Stained Texture Stamp & Store Stardust Starlight State Fair Steam Punk Steampunk Steampunk Debutante Steampunk Spells Stella and Rose Stocking Filler Stocking Fillers Stolen Moments Story Teller Storyteller Strawberry Kisses Strawberry Picnic Stream of time Stripe Stripes Strong Studio G Style Essentials 34th Street Suave Suga Pop Sugar & Spice Sugar and Spice Sugar Rush Sugar Sugar Sultry Summer Summer Adventure Summer Blues Summer Breeze Summer Days Summer Fresh Summer Memories Summer Stories Summer Sunshine Summer time Summer vacation Summertime Sun Kiss Sun Kissed Sunburst Sunday Afternoon Sunday Picnic Sunkiss Sunny Days Sunny Days Ahead Sunny Happy Skies Sunny Skies Sunrise Sunrise Sunset Sunshine and Shadows Super Value Sushi Swagger Sweat Pea Sweet baby boy Sweet Baby Girl Sweet Christmas Sweet Christmas Dreams Sweet Crazy Love Sweet Day Sweet dreams Sweet Fairy Sweet Girl Sweet Girls Sweet Kisses Sweet Life Sweet Lovers Sweet Nectar Sweet Nothings Sweet Owl Sweet Paris Sweet Pea Sweet Peppermint Sweet Rainbow Sweet Season Sweet Sentiments Sweet Tart Sweet Threads Sweet Treats Sweetness Symphony Blend Tag Pad Tangerine Dream Tattered and Worn Tattered Time Tea Break Tea House Tea Party Tea Roses Tea-Thyme Teacher's Pet Tech Bubble Techniologic Technologic Telegraph Telegraph Road Tell your story Text Plus Photo Texture Thank You Thankful That's My Boy The Archivist The Avenues The Basics Stack The Best The Best Of The Celebration The Ciao Bella The Corner Shop The Gilded Orchard The Green Stack The Guy The Homespun The Jewel The Lake House The Lakehouse The Little Gardener The Looking Glass The Magic fo Oz The Night Before Christmas The Promise The School Days The Seaside Life The Story The Story Of Fall The Story Of Our Family The Sweetest Thing The sweetest thing Lavender The sweetest thing Tangerine The Winter Wonderland The World Traveler These Days This & That This and That This and That Charming This and That Christmas This and That Graceful This Guy Three little birds Through The Lens Patterned Ticket to the Moon Tie the Knot Tiffanys Treasure Tigerlilly Tilly Daydream Time Time For Fun Time Machine Time to Celebrate Time to Dream Time to Flourish Time Traveller Timeless Timeless Memories Timeless Texture Timeless Travel Timepiece Times & Seasons Times and Seasons Times Nouveau Timr To Flourish Tiny Tatty Teddy Boy Tiny Tatty Teddy Girl Tiny Woods Tis The Season Today Tomorrow Forever Together Totally Teal Town Square Toy Box Tradewinds Traditions Transatlantique Travel Travel Adventure Travel Girl Travel Notes Traveler's Memories Treasure Rae Trend.Setter Trendsetter Trendy Trendy Tape Trial Mix Trick or Treat Trip Tropical paradise Tropical Travelogue Tropicals Tropicana Tropics Trousseau True Blue True Friends True Love True Romance Truly Turning Leaves Tuxedo Two Hearts Typography Ultra Fine Umbrella Under the Sea Union Square Up Up & Away Up Up and Away Velvet Ensemble Venice Very Merry Very Merry Christmas Very Vintage Vicki B. Victoria Victoria - 7gypsies Victoria - Jenni Bowlin Victoria Garden Vintage Vintage Baby Vintage Bliss Vintage Blue Vintage Charm Vintage Chic Vintage Christmas VINTAGE EMPORIUM Vintage Finds Vintage Floret Vintage Flourishes Vintage Hollywood Vintage Lane Vintage Notes Vintage Poppy Vintage Posey Vintage Rose Vintage Vanity Vintedge Violet Crush Violet Leaf Violette Vings Visions of Christmas Voyage Beneath The Sea Waiting for Santa Wall to Wall Textures Wander Wanderlust Watercolor Watercolor Bouquet Watercolor Party Watercolor Rainbow We're Expecting! Webster's Pages Wedded Wedding Wedding Wedding and Romance Wedding Bells Wedding Bliss Wedding Craft Wedding Day Wedding of our dream Welcome Christmas Welcome Spring Welcome to Paris Well Played Well Traveled Well Travelled Wellington Wellington Christmas Western Romance What's up What's Your Sign Where The Wild Things Are Whimsical World Whimsy White Christmas White Fern White Ginger White Truffle Whiteout Whoo Loves You? Wild & Free Wild & Free Collections Wild At Heart Wild Flower Wild Rose Wildflower Wind Up Winery Wings of butterfly Winter Winter Fairy Tales Winter Flannel Winter Fun Winter in the city Winter Is Coming Winter Memories Winter Park Winter Roses Winter Wishes Winter Wonder Winter Wonderland Winterland Wintertime Wishes & Dreams Wishes and Dreams Wishful Thinking With Love Wizard Woodland Park Woodworks Words of Love Xmas Bella Yacht Club Year 'round Year In Review You Are My Happy You Are My World You Are So Special You Are the Best Yours Truly Zanzibar Zephyr Zing Zinnia Автовинтаж Автовитаж Ангельское шебби Архив Бабочки Басик Басик и Ко Басик Малыш Бесконечность Бохо Бригантина В Лесу Версаль Весенний день Весенний праздник Ветер странствий Винтажный новый год Вкус Зимы Внутри моего лета Вокруг Света Волшебная страна Время чудес Гараж Гаражи Голландские мотивы Готовим дома Дед Мороз День Влюбленных День за днем Джульета Дино и компания Дисней Беби Живи мечтой Забава Забытые мечты Зайка Mи Зайка Ми Зайка Ми Зимняя Ягодка Зайка Ми Малыши Записки натуралиста Здесь живет детство Зима Зимнее утро Зимние каникулы Зимние контрасты Зимний дневник Зимняя пора Зимняя сказка История любви Итальянские каникулы Карамель Карта Странствий Коллекция 75 Cents Коллекция Just Believe Корица Красочная природа Кружево Курортный роман Лавандовые Сны Лавка Древностей Ласточки и цветы Леди Шебби Лесные друзья Летний сад Летняя вечеринка Летняя Радость Лето зовет Любимая доченька Любовь Любовь дарит крылья Малыш Малышка Мальчик и девочка Мамина Радость Мамины Сокровища Медвежонок Винни Медвежонок Винни и его друзья Мелодия души Механические иллюзии Микки Микки Маус Микки Маус и друзья Милый Дом Минни Минни Маус Мистер Винтаж Мое Море Море Морская романтика Морские зарисовки Морские приключения Мужские хобби Музыка Любви Навстречу Мечте Наш кроха Наш Малыш Наша крошка Наша Малышка Наша радость Наша Свадьба не Нежность Нет НетБумага архивного качества, не содержит кислоты и лигнина. Новогодние Пейзажи Новогодние подарки Новогодний Пейзаж Новые приключения Ноктюрн в голубых тонах Ночь перед Рождеством О любви Одиссея Однажды зимой Осенний Вальс Письма о любви Подружки Полуденный чай Почта Праздник детства Принцессы Про Любовь Пробуждение Прованс Путешествие Путешествия Разрисованная Вуаль Районы Кварталы Районы-кварталы Райские птицы Райские птички Ретро Рецепты счастья Рождество Розовый сад Розы Российская зима Русская зима Рыбалка С Днем Рождения! С Рождеством С Рождеством! Свадебная Свадьба Сделано с любовью Симпл Сиреневые мечты Сказка про фей Сказки Моря Сладкая жизнь Сладкие Грезы Сладкий праздник Сладости Снеговик Снежинки Сны о Японии Совиная семейка Сокровища Пиратов Средиземноморье Старинная Лавка Старинная усадьба Старинный романс Старый цирк Страна Чудес Счастливое детство Счастливый День Счастливый день! Такие Мальчики Такие Мальчишки Там где лето Там где море Там, где море Теги и журналинг Точка невозврата Тропикана Удивительное Рядом Фантазия Фотоархив Французское путешествие Французскре путешествие Фруктовый сад Хорошего Настроения Хорошее Настроение Храни воспоминания Цветные сны Цветочная вышивка Шале Шебби Шик Школа это маленькая жизнь Школьная Пора Школьные страницы Эвелина Элегант Элегантно Просто Элегия Это лето Этот удивительный мир Я к Вам пишу Я люблю осень Я просто люблю тебя Ягода По категории: выберите категорию Альбомы и заготовки Альбомы для скрапбукинга Заготовки для открыток Кольца для альбомов Заготовки для декорирования Заготовки для альбомов Странички для альбомов Уголки для альбомов и коробочек Заготовки для блокнотов Пружинки для биндера Замочки и магниты Наборы для создания открыток Планеры и блокноты Бумага для скрапбукинга BasicGrey 7gypsies Graphic 45 Lily Bee Design Melissa Frances Jenni Bowlin Studio Simple Stories October Afternoon American Crafts Studio Calico Webster's Pages Making Memories My Mind's Eye Echo Park DCWV Прочая бумага Bo Bunny Prima Marketing Glitz Design Crate Paper Дизайнерский картон С текстурой вельвета Легкая фактура С текстурой льна Картон гладкий Картон перламутровый Калька и веллум Coredinations С тиснением Scrapberry's Упаковочная и крафт-бумага Fabriano Fabscraps Ruby Rock-It We R Memory Keepers Kaisercraft Fancy Pants Carta Bella Authentique Paper Magnolia Farm House Paper House Teresa Collins Karen Foster Little Yellow Bicycle Heidi Swapp Bella Blvd ScrapBerry's Scrapmir Наша Малышка Наш Малыш Элегант Сиреневые Мечты Фруктовый сад Нежность Море Карамель Корица Любовь Хорошее настроение Леди Шебби Музыка Любви Наша Свадьба Baby Girl Baby Boy Мистер Винтаж Такие Мальчишки Christmas Night Rustic Winter Little Bunny Birthday Party Little Bear Sweet Girls Simple Flowers Delicious Recipes Shabby Winter Hello Christmas Let's Travel Time to Dream Ticket to the Moon Charming Smile Baby Doll Baby Every Day Cozy Forest Nordic Spirits Time to Dream АртУзор Lesia Zgharda ROSA Фабрика Декора Наборы для скрапбукинга Размер 30х30 см My Mind's Eye Dovecraft Tim Holtz First Edition DCWV Echo Park Papermania Doodlebug Hot Off The Press Kaisercraft Prima Authentique Paper Teresa Collins Разное K and Company American Crafts ScrapBerry's Panduro Bo-Bunny Graphic 45 Recollections ScrapMir АртУзор Фабрика Декора Размер 20х20 см 7Gypsies Dovecraft Prima DCWV First Edition Fabscraps Papermania Authentique Paper Graphic45 Разные ScrapMir Фабрика Декора Размер 15х15 см BasicGrey 7Gypsies Echo Park Dovecraft First Edition Webster's Pages Bo Bunny Prima Crate Paper Wild Rose Studio My Mind's Eye Papermania Authentique Paper Melissa Frances Kaisercraft Разные ScrapBerry's АртУзор Размер 29,7х21 см (формат А4) Prima Marketing Lesia Zgharda DCWV Papermania ROSA Talent АртУзор Разные Украшения для скрапбукинга Брадсы BasicGrey American Crafts Bo Bunny Dovecraft Creative Impressions Eyelet Outlet Prima 7gypsies Carta Bella HOTP Перламутровые Стеклянные Металлические Другие ScrapBerry's Теги и журналинг Стикеры и наклейки Basic Grey Tim Holtz Dovecraft JeJe Products Другие Echo Park ScrapBerry's Crafty Secrets Kaisercraft Lesia Zgharda АртУзор Высечки Scrapmir Kaisercraft АртУзор Crafty Secrets Graphic 45 Lesia Zgharda Papermania Скрапология Разное Натирки Пуговицы Blumenthal Lansing Dress It Up Деревянные Тканевые Пластиковые Перламутр и кокос Buttons Galore Dovecraft ScrapEgo Люверсы Scrapberry's Металлические WeRMK American Crafts Стразы, бусинки, половинки жемчужин и капли Полукапли Robin's Nest Стразы Полужемчужины Стразы на стебле Стразы клеевые Scrapberry's Полужемчужинки клеевые Scrapberry's Полужемчужинки клеевые Узоры из полужемчужин Узоры из страз Стразы клеевые Камушки клеевые Scrapberry's Полужемчужины клеевые Santi Пряжки со стразами Другой декор Чипборд Надписи Рамки и теги Завитки и вензеля Природа Кулинария Детское Другое Архитектура Новый год Scrapbox Katrin Craft Вензелик ScrapMir АртУзор Чипборд Фабрика Декора Скрапстудия "С Любовью" Деревянные украшения Scrapberry's Прищепки Бабочки Kaisercraft Сердечки Бирочки Разные ScrapStudio Вензелик ScrapBox Деревянные цифры Гипсовые украшения Melissa Frances Prima Marketing ScrapEgo Scrapberrys Project Life Оверлей Наборы салфеток Бутылочки Объемные украшения Акриловые украшения Фишки - значки и топсы Фишки - значки Бумага Марака Топсы Фишки ScrapMir Фишки Scrapberrys Фабрика Декора Топсы АртУзор Металлический декор, рамки, анкеры Рамочки, анкеры, клипсы и другие украшения Декор - филигрань Колокольчики Синельная проволока Помпоны Скотч декоративный и Washi Бумажный скотч Washi Декоративный скотч Washi Queen and Co Washi Scrapberry's Washi Kaisercraft Декоративные цветы и листики Розы Размер 4 мм Размер 8 мм Размер 10 мм Размер 15 мм Размер 25 мм Размер 30 мм Размер 40 мм Размер 6 мм Цветы вишни Гардении Размер 4 см Размер 7 см Гардении Scrapberrys Гортензия Маленькие Средние Большие Гипсофила Наборы цветов Наборы Scrapberry's Наборы Kaisercraft Наборы Dovecraft Разноцветные наборы Наборы Studio G Наборы Таиланд Декоративные листики Скелетированные листики Другие цветы Тычинки для цветов Prima Flower Sweetheart Лилии Тюльпаны Маргаритки Цветы жасмина Вязанные цветы Плоские цветочки Мини-веточки Ягодки Хризантемы Цветы из ткани Гвоздики Астры Пуансетия Freetany Flowers Скрап Клумба Цветочная фея Штампы Tim Holtz Justrite LaBlanche Kaisercraft Hero Arts Другие Royal Brush Bo Bunny Penny Black 7gypsies резиновые акриловые Papermania резиновые акриловые Prima Marketing Stampendous резиновые акриловые Штампы украинского производства Рисунки Алфавиты Русскоязычные Украиноязычные Англоязычные Fizzy Moon HOTP Dovecraft ScrapBerry's CoolHoo Инструменты и хранение Фигурные дыроколы Бордюрные дыроколы Угловые дыроколы Фигурные дыроколы 1,5 см Фигурные дыроколы 2,5 см Фигурные дыроколы 4 см Lucky 8 Martha Stewart Клеевые материалы Упаковка для бумаги и открыток, хранение Контейнеры для мелочей Органайзеры Пакеты для бумаги открыток Файлы для страничек Пакетики из органзы Трафареты и маски My Favourite Things Разное Crafter's Workshop Hot Off the Press Prima Kaisercraft Clear Scraps Claudine Hellmuth Украинского производства Фабрика Декора Прочие инструменты Фигурные ножницы Макетные ножи, резаки и ножницы Макетные коврики Биговочные палочки Sew Easy Ручной принтер Dymo Прочие Линейки Установщики люверсов Квиллинг Эмбоссинг и тиснение Фены для эмбоссинга Пудра для эмбоссинга ScrapEgo American Crafts Ranger Tim Holtz Clear Snap Hero Arts Stampendous Фабрика Декора Чернила для эмбоссинга Лаки, краски и материалы Жидкий жемчуг и капли Жидкий жемчуг Liquid Pearls Ranger Жидкий жемчуг Dovecraft Эмалевые капли - дотсы Стеклянные капли - дропсы Жидкий жемчуг Фабрика Декора Деко глазурь Фабрика Декора Кракелюр Лаки и глосси акценты Глиттер, флок и топпинги Микробисер Глиттер клеевой Stickles Глиттер Margo Flower Soft цветочный микс Flower Soft аксессуары Глиттер другой Топпинг хлопья Глиттер Distress Глиттер Stampendous Глиттер Hampton Art Цветной песок, хрусталь и снег Глиттер Фабрика Декора Флок Stampendous Флок Фабрика Декора Перламутровая пудра Perfect Pearls от Ranger Фабрика Декора Текстурные пасты Белые и бесцветные пасты Цветные пасты Текстурный гель Медиумы, грунты, гессо Краски акриловые и декоративные Distress Stain Акриловая краска Краска-глянец Glimmer Glaze Краска-глиттер Glimmer Glam Акриловые Фабрика Декора Перламутровая ScrapEgo Сухая краска "Magic paint" Фабрика Декора Патина Краски-спреи Glimmer Mist от Tattered Angels Color Wash от Tim Holtz Perfect Pearls от Ranger Tsukineko Creative Imaginations Dylusions от Ranger Другие спреи Перламутровые ScrapEgo Матовые ScrapEgo Аква-спреи Фабрика Декора Металлик Фабрика Декора Перламутровый Фабрика Декора Хамелеон Фабрика Декора Lesia Zgharda Меловой спрей "Фабрика Декору" Ленты, кружево и шнурочки Лента из органзы С принтом Однотонные В горошек Атласная лента Узкая С принтом Средняя Широкая Прочие Фетровая лента Floral Felt Узор шеврон Сетка-паутинка Блестящие ленты Разные Вельветовая лента Лента на клеевой основе Цветочные В горошек В клеточку Кружево Однотонные Шеврон Шнур Джутовый и пеньковый шнур Вощеный шнур Шнур Baker's Twine Бумажный шнур Крученый шнур Замшевый шнур Резиновый шнур Разные шнуры Кружево Кружевная лента Хлопковое кружево Хлопковые ленты С принтом Сетка Наборы ленточек Репсовая лента В клеточку В горошек Однотонные С принтом Шебби-лента May Arts 38 мм May Arts 13 мм Hug Snug 14 мм Creative Impressions 20 мм Фигурная лента и тесьма Листья Ленты-высечки Лента с фигурным краем Лента с цветами Лента с помпонами Тесьма Зиг-заг Сатиновая лента в клеточку Рафия Бусы Ткани, фетр, другие материалы Хлопок Лен Фетр Наборы для шитья Ткани Tilda Фоамиран (вспененный материал) Ткань на клеевой основе Машинки для тиснения и вырезания Cuttlebug CottageCutz My Favorite Things Spellbinders Sizzix Машинки и аксессуары Darice Memory Box Magnolia DooHickeys Nellie's Choice Joy! Crafts Marianne Design Crafts-Too Crafter's Companion Другие Docrafts Tonic Studios La-La Land Die Die-Namites Lea'bilities We R Memory Keepers Penny Black Crafty Ann Prima Marketing Книги, журналы и блокноты Все о рукоделии Книги Ручные чудеса Скрапбукинг Декупаж Декупажные карты Салфетки для декупажа Бумага для декупажа Бижутерия, подвески, кабошоны Кабошоны Цветы Стеклянные прозрачные Женский портрет Птички Силуэты Рамочки Для деток Тканевые кабошоны Наборы кабошонов Стеклянные с принтом Заготовки для украшений Цепочки Проволока и леска Бусины и пластиковые украшения Подвески и шармики Подвески и шармики Наборы подвесок Краска и аксессуары для штампинга Краска для штампинга Tim Holtz Distress Dovecraft Другая краска Ranger Clear Snap Heyda Hampton Art Ditto Tsukineko Scrapberry's Акриловые блоки Аксессуары для штампинга Новогодние наборы -50% -60% -70% Наборы новогодней бумаги и декора По цене: от: до: Акционные товары Новинки В наличии По коду товара:
Для того, что бы войти в корзину товаров, Вам необходимо авторизоваться или зарегистрироваться на сайте.
Товар добавлен в корзину.
Товар добавлен в Желаемое.
Главная страница / Каталог товаров / Книги, журналы и блокноты / Все о рукоделии
24,98 грн
В наличии 0 шт.
Уведомить о наличии
Код товара
VOR03_2011-1
Коллекция
Нет
Категория товара
Все о рукоделии
Производитель
Украина
Тематика
Зима Новый Год Осень
Цвет
Белый
Журнал "Все о рукоделии" ноябрь-декабрь 2011 г. Журнал для творческих людей, включает в себя идеи для декора: мастер-классы, украшения, бижутерия, декор, а также эксклюзивные схемы для вышивки. Журнал формата А4, около 60 страниц.
С этим товаром покупают
Источник: http://www.scrapbooking-ukraine.com/catalog/books/about_handiwork/product/about_handiwork_vor03_2011-1/
Поделись с друзьями

Рекомендуем посмотреть ещё:
Обзор журнала Всё о рукоделии за ноябрь 2015 смотреть
Связать логотип и название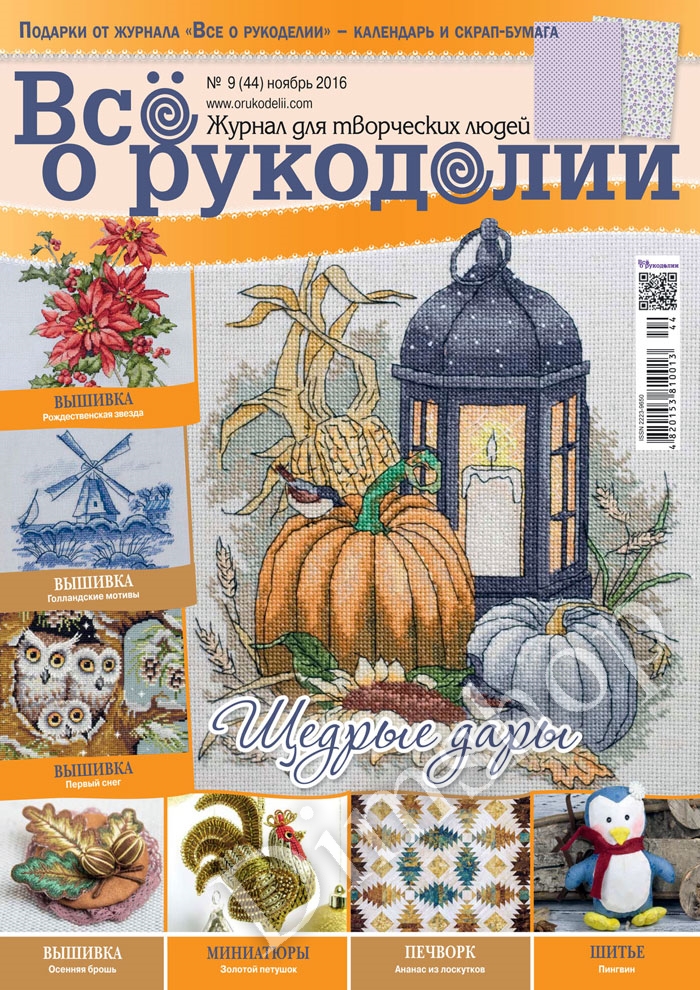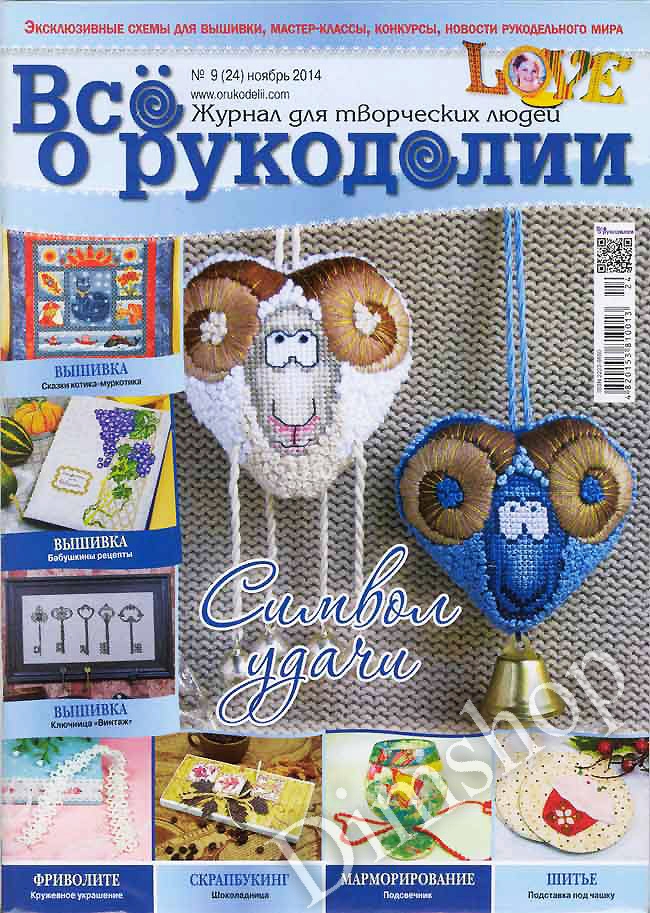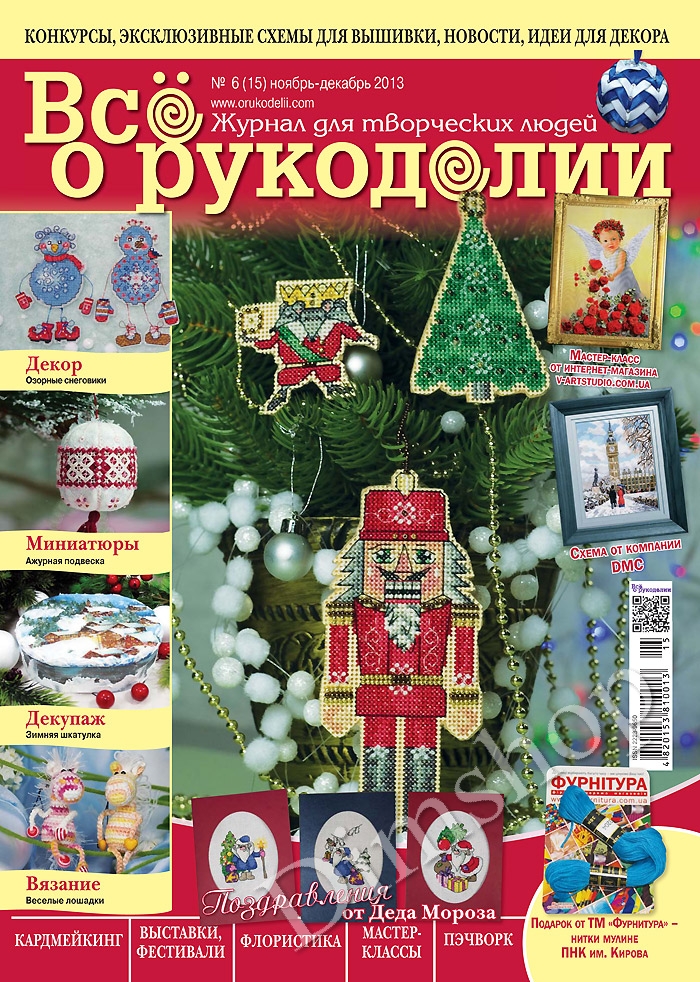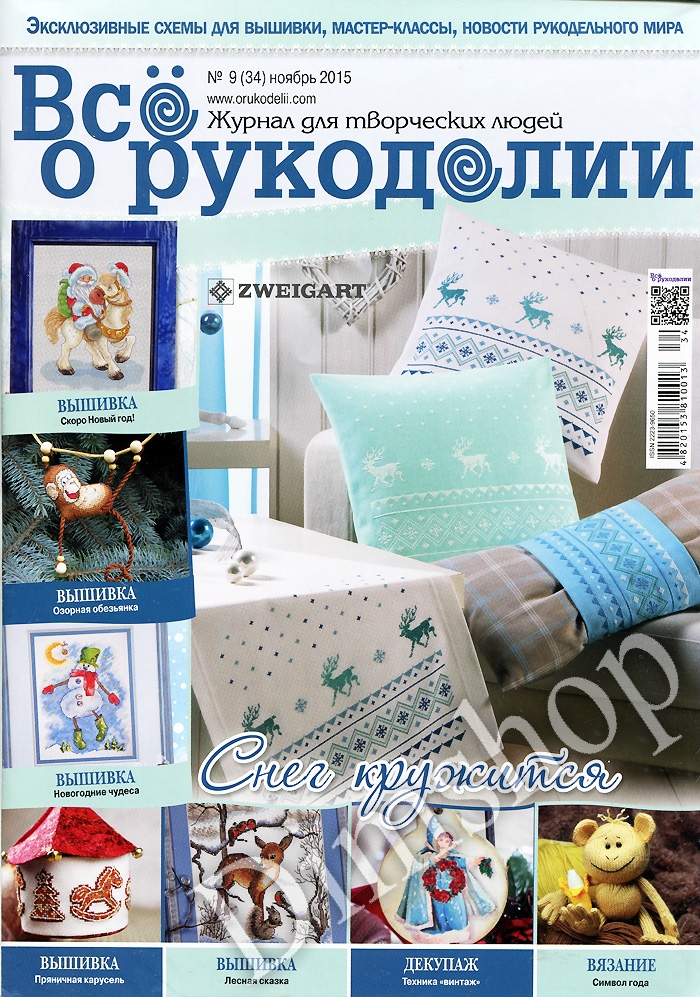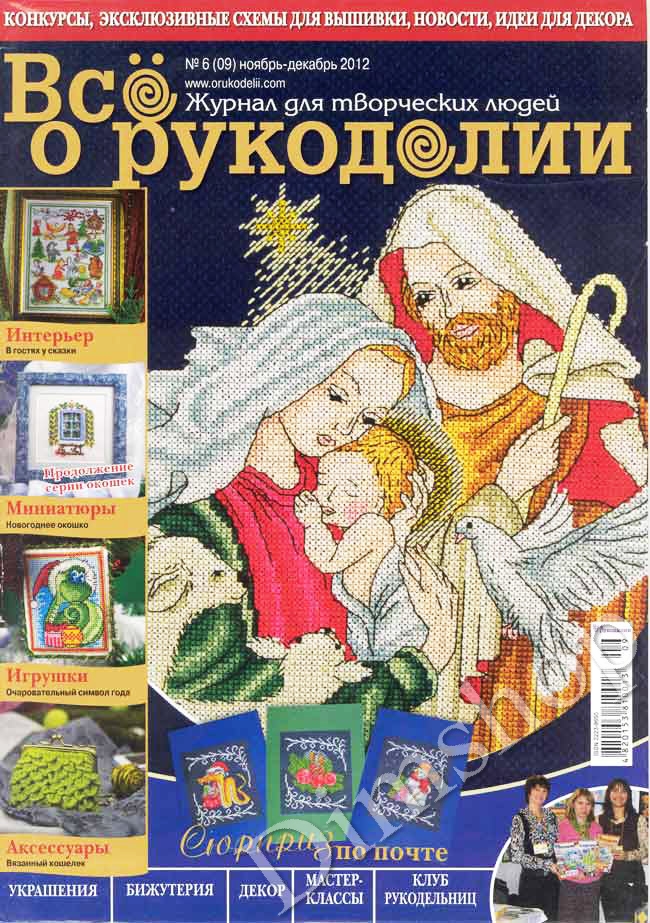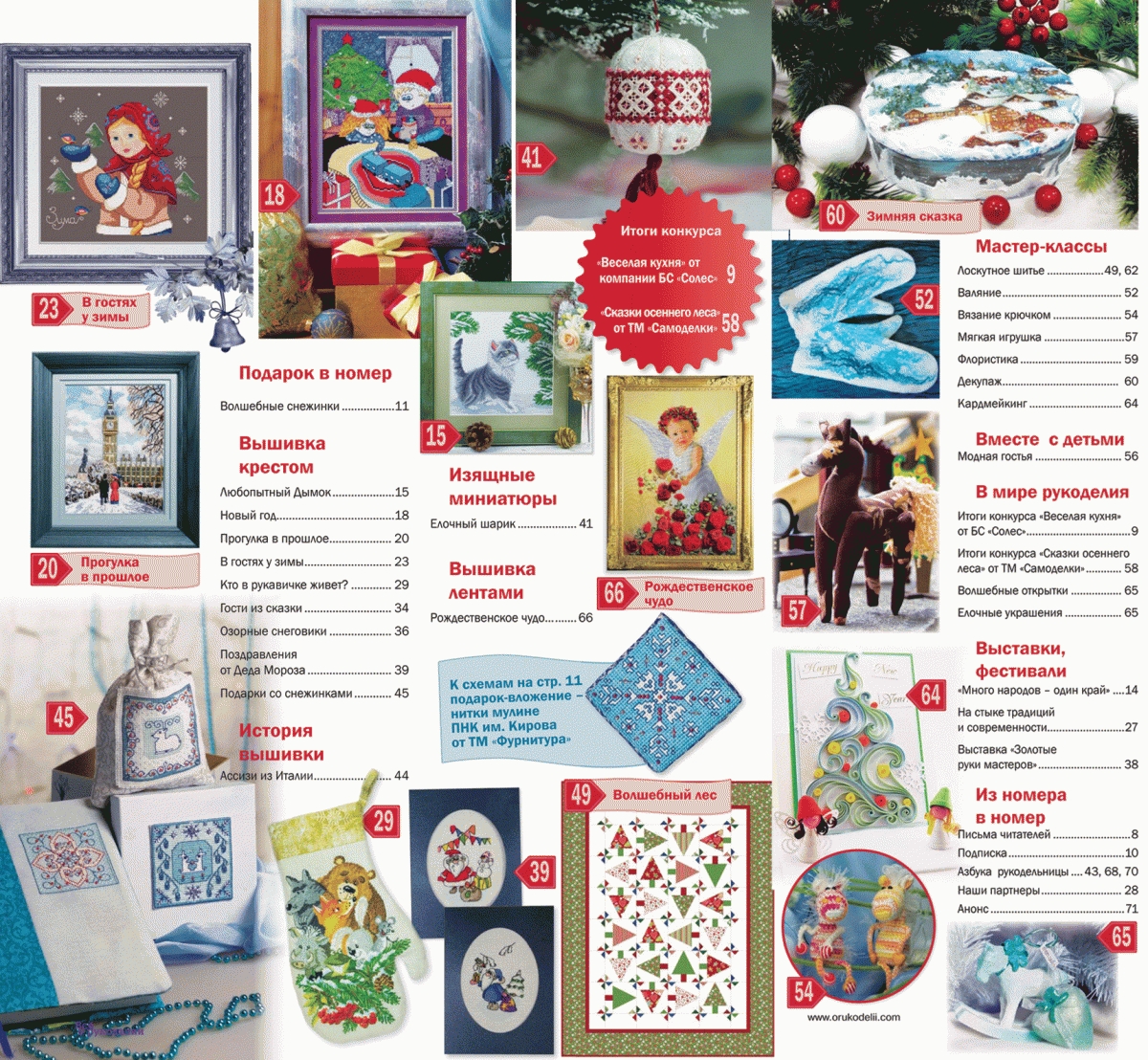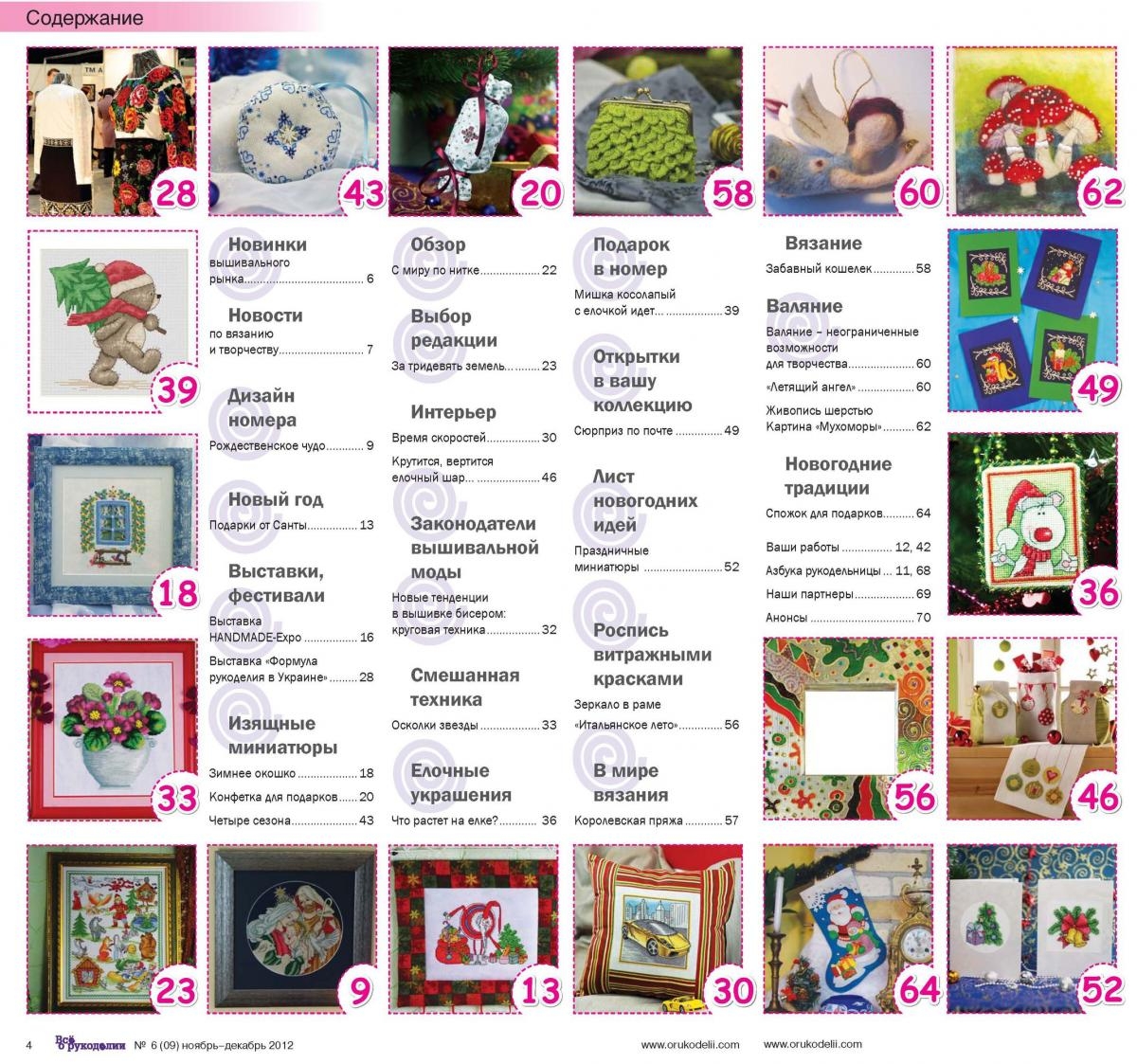 ШОКИРУЮЩИЕ НОВОСТИ